Good Guys' Index 2.0
2020-09-03
We are happy to present GGI (Good Guys' Index) 2.0. 
GGI is a helpful tool, where you easily can compare different simulations from technical and environmental point of view. GGI 2.0 is integrated in NovaFlow&Solid, but can also be used as a standalone program. Here are the biggest news in GGI 2.0:
• GGI is now updated so that you can work with comparisons of castings without having output data from NovaFlow&Solid. You can manually enter and change values in order to compare different solutions.
• GGI is now also adapted more for HPD casting production. You can take into acount tooling cost, die life and you can compare the use of different furnace types. You can also take into acount the holding furnace impact.
• An extensive section  for default value setting is added which makes it possible to adapt the program for you specific process.
• Furnace types can be set and compared and you can add your own furnaces.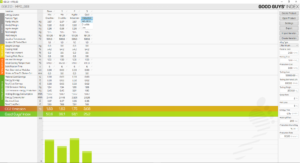 Click to enlarge the screenshot of GGI 2.0 with several solutions to compare.
How to get GGI 2.0:
GGI 2.0 is implemented in NovaFlow&Solid 6.4r12 but needs to be activated in order to use it. When opening GGI in NovaFlow&Solid, you will be given a code – please send this code to support@novacast.se to activate GGI on your license.
Not sure how to access GGI 2.0? Our support team is happy to assist – get in touch with them here.
Back to all news