Going greener with NovaFlow&Solid
The use of lightweight materials is a permanently increasing need in the automotive industry. This is reflected in the growing use of this technology in vehicle design. LKR, Light Metals Competence Center in Ranshofen, Austria, is a subsidiary of the Austrian Institue of Technology. At LKR, several research projects are held with focus on casting technology. LKR uses NovaCast's simulation tool NovaFlow&Solid in their studies.

The casting technology research includes different machines and equipment, e.g. HPD machinery, vertical/horizontal continuous casting, alloy development, material mixes in the mold and conformal cooling. As the Austrian Institute of Technology and LKR are continuously researching new environmental issues, many of their business activities are based on their expertise within sustainability.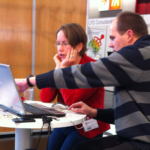 Throwback to Euroguss 2012 in Nuremberg, Germany. Dr. Angela Harrison, LKR, and Håkan Fransson, NovaCast.
Dr. Angela Harrison, Research Engineer & Project Manager at LKR:
"I studied Environmental Engineering at the university. This is where I come from. I teach my children energy savings and waste management at home."
On the hunt for greener solutions, LKR has had good use of NovaFlow&Solid.
"We have had NovaFlow&Solid simulations running on various different cooling channel geometries (with and without e.g. incorporating copper in the mold), different temperature levels of the mold, different mass flow and temperature of the coolant, etc. The best version of channel geometry was chosen and manufactured as inserts for our existing HPDC mold. In 2019 we presented the first results and got very good feedback from the industry. The subject is extensive and projects are still ongoing, so we are now working on an insert for our new HPDC mold with more/different partners."
The NovaFlow&Solid solution has been useful in many different projects, yet significantly within conformal cooling.
"Yes, conformal cooling with material mix in the mold. It helped us try different design in cooling channels to see which is the best. We also measured the effect on the mold and the casted part itself. I would say the key features of NovaFlow&Solid are the meshing, the fast calculation time and the exceptional support that comes with the deal. It is 10 out of 10, that is the truth."
Network license
Since 2014, LKR uses a network license connected to NovaFlow&Solid, making it accessible for multiple users. Dr. Harrison again:
"We all have laptops and NovaFlow&Solid on a workstation at the institute. The reason we invested in a network license was to be able to access it remotely and keep big simulations running for a few days without interruptions."
LKR has also been one of NovaCast's TPA clients for a long time. This means they are not only guaranteed support, LKR are also given all software updates, invitations to webinars and discounted user meeting.
"You always get the latest upgrades and there is always someone there to ask if you have a problem. The user meetings are great as you can learn about how other people use the software in their work." 
The greenest simulation guide
NovaFlow&Solid can make your casting production greener by letting you investigate and be guided on how to increase your yield and optimize your production process. The Good Guys' Index (GGI) is a built-in function in the program to help you save energy, material and eventually use less of the resources of our planet.
Read more about NovaFlow&Solid here >>
About LKR & Angela's scientific expertise
As Senior Research Engineer at LKR, Dr. mont. Angela Harrison is a project leader within the field of casting technology. She focuses on various research topics related to the optimization of the high pressure die casting process, such as energy efficiency, conformal cooling as well as additive manufacturing of tools. Moreover, she is responsible for the process simulation with NovaFlow&Solid in connection with the verification of results via casting trials.
LKR Leichtmetallkompetenzzentrum Ranshofen GmbH has 25 years of research and innovation for lightweight components of tomorrow. The AIT Austrian Institute of Technology is Austria's largest non-university research institute. As a subsidiary of AIT LKR Leichtmetallkompetenzzentrum Ranshofen GmbH forms the Competence Unit "Light Metals Technologies Ranshofen" in the AIT Center for Low-Emission Transport. The business focus is centered around high-quality light metal alloys and sustainable manufacturing processes, as well as functionally integrated lightweight components.