Good Guys' Index (GGI)
Calculate your products' environmental impact.
The demand of minimizing CO2 emissions are getting higher. We are convinced that being able to calculate each product's CO2 impact is a competitive advantage and we have a strong belief that this will soon enough be a requirement. How do we calculate this value? An LCA calculation is very expensive.
For a few years, NovaCast has been working on developing a software that makes CO2 calculation easy. We calculate the impact all the way from raw material to delivery to customer. Our software is called Good Guys' Index, GGI, and has been developed together with some of our customers.
Are you environmentally conscious and also convinced that the requirements will come? GGI is a software that calculates not only the CO2 impact, but the Good Guys' Index and the cost of your casted products. The program takes for example the following into account: raw material, transport, the energy mix you have, all product steps, transport to customer and more.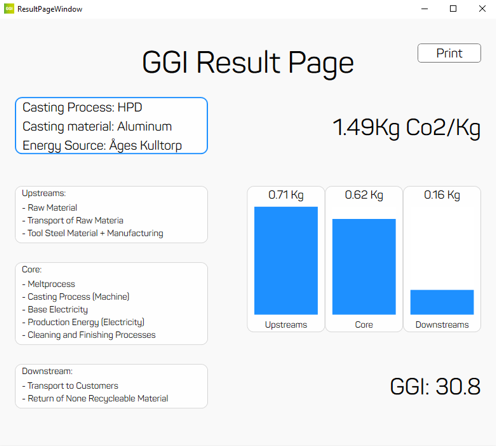 Example of result page in Good Guys' Index where the CO2 emission per kg has been calculated for an aluminum high pressure die casting part.

A NCTV episode where we discuss the story behind the GGI program. Please note that this episode was recorded in 2021 showing a previous version of GGI. Today's version includes result page, raw material CO2 calculations, transport with CO2, base energy consumption etc.
Interested in becoming a test pilot?
Good Guys' Index is planned to be officially launched during the Fall of 2022, but already now for limited time, it's possible to sign up for a chance to test the program. While testing, you can expect full support from our team. The only things we demand from you is devotion and honest feedback.
Please note that we reserve the right to use your feedback and to quote you for marketing purposes.